2018/09/08
On Friday, September 7, Canada Post tabled an offer with your Union that provides wage increases in every year of the proposed four-year contract and makes improvements to your benefits.
The offer recognizes your positive contribution to the company's success and sets a new, collaborative path forward.
Jessica McDonald, our Chair of the Board and Interim President and CEO, outlines what this offer means to you and your colleagues in a letter, below.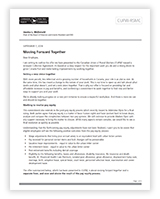 Negotiations began at the end of 2017 and the parties have been in facilitated talks for more than eight months. The conciliation phase ended at midnight on September 4, 2018 and we are now in a 21-day cooling-off period that ends at midnight, September 25, 2018. Meanwhile, negotiations are ongoing.
The collective agreement between Canada Post and CUPW-RSMC expired December 31, 2017 but the terms and conditions continue to apply, in accordance with the Canada Labour Code.
We will continue to keep you informed of key developments through your team leaders and the Negotiations Hub.
Read here the detailed summary of the offer tabled with your Union.