2018/10/03
Earlier today, Canada Post tabled an offer to the Canadian Union of Postal Workers (CUPW-RSMC).
The offer builds on an earlier one presented on September 7, 2018. It provides wage increases in every year of the proposed agreement, improved benefits and makes no changes to employees' pension.
The improved pay and other changes in this offer go beyond the pay equity ruling on September 20, 2018, including pay protection for employees after a restructure.
In a letter to all CUPW-represented employees, the Chair of the Board of Directors and Interim President and CEO Jessica McDonald explains how we address concerns in both the RSMC and Urban groups and confirms the company's commitment to work with CUPW to grow and improve the business.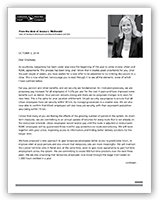 While the conciliation process has concluded, talks are ongoing with the help of a mediator, and Canada Post continues to work toward a negotiated settlement.
The collective agreement between Canada Post and CUPW-RSMC expired December 31, 2017 but the terms and conditions continue to apply for now.
We will continue to keep you informed of key developments through your team leaders and the Negotiations Hub.
Read here the detailed summary of the offer tabled with the Union.