2020/06/03
In this CEO Update and in a video message, Doug Ettinger shares a snapshot of Canada Post's enormous parcels volumes in May and talks about the impact on employees.
Our business in May
Dear Colleagues,
In May, across our entire network, we continued to see the enormous impact of COVID-19 on our business and on our people. I'll give you a snapshot of our volumes, but I also want to talk about the impact on you.
By May, Canadians were several weeks into living with mandated business closures, so they were shopping online even more. As well, retailers who weren't doing so already began to transition to selling online. The resulting parcels growth has been enormous and while we have been processing and delivering in record numbers, I understand the pressure this is putting on all our people. Let me first start with an update on our volumes this May, compared to May of last year, using approximate figures:
Domestic Parcels volumes started growing in April and took on greater momentum in May. We're delivering record parcel volumes on a regular basis, hitting levels only seen during Christmas peak season. The efforts we're seeing from employees across the country to deliver to Canadians are truly remarkable. But this pace is difficult to sustain and we are working to find ways to alleviate the pressure while maintaining our important safety measures.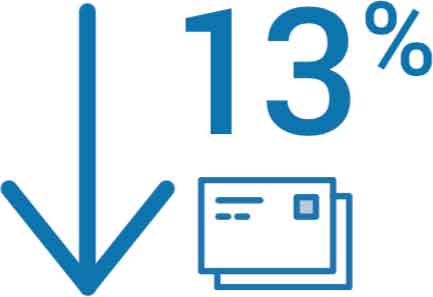 Lettermail volumes declined less than we experienced in April. However, the decline is much larger than what we were seeing before COVID-19. While monthly bills and statements continue at steady volumes, temporary business closures and economic uncertainty are reducing other mail from businesses.
Direct Marketing volumes were down nearly as much as the 64% we saw in April. We expect Direct Marketing to start returning in the weeks ahead as many businesses begin to safely reopen and need to reach out to customers to inform them they are open for business. We are working with customers to understand their plans, as these mailings will become vital to helping them regain what they lost in the last few months.
While our parcels volumes are as high as or higher than our peak season, this is unlike peak season because there is no defined end date. The effort to serve this demand, combined with the uncertainty makes this a very challenging situation. This is unprecedented and we are looking at several options to make things more sustainable.
Your efforts are not going unnoticed. Every Canada Post employee has helped to deliver Canadians some much- needed "normal" through two very difficult months. You're making it possible for them to get on with their lives as best they can. What you do has never been more important – or more appreciated – by the people you serve every day.
Make it safe, make it home – and keep wellness in mind.