2020/10/13
In this CEO Update from Doug Ettinger and a video message from Chief Customer and Marketing Officer Rod Hart, they provide a snapshot of the business results in September and share their thoughts on what's ahead over the next few months.
Our business in September
Dear Colleagues,
Our September results demonstrate how Canadians continue to rely on us as an essential service during COVID-19, and also reinforce the critical role we'll play for businesses and shoppers heading into the holiday season. Strong parcels growth continued in September, and we expect volumes to only increase over the next few months. Peak season is always important for the company and our customers, but this year it will take on a whole new meaning as Canadians shop online in record numbers during COVID-19. We're going to be talking more to you and our customers in the coming days about what to expect this peak season and how we'll maintain our focus on safety.
These approximate figures provide a snapshot of our volumes in September, compared to September of last year:
Parcels volumes increased by approximately one third compared
to September of last year, fuelled by strong growth in domestic and U.S. parcels. Volumes from the rest of the world are also increasing, but to a lesser degree due to limited air transportation availability from many countries. We are actively working with our largest customers on planning and forecasting volumes for the upcoming peak season. To help alleviate volume pressures we'll face in December, we're working with business customers and encouraging them to hold early sales and for Canadians to do their holiday shopping sooner.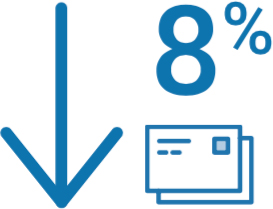 Lettermail volumes decreased about eight per cent year-over-year in September, which represents the best month we've seen since COVID-19 began. However, Lettermail erosion is still larger than we would have expected without COVID-19, as some key segments such as the telecommunications sector continue to aggressively convert customers to digital. We are also working closely with the provinces of British Columbia and Saskatchewan as they prepare for their provincial elections this month, with Lettermail and other Canada Post services
being important components.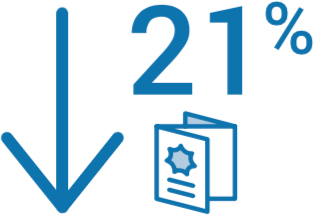 Direct Marketing volumes in September declined at a slower pace than in August, but are still significantly less than the same period a year ago. Notable large advertisers such as Canadian Tire, McDonald's, Pizza Pizza, Subway and RE/MAX contributed to Direct Marketing volumes throughout September. However, advertisers remain cautious with marketing spends and approaches during COVID-19. We continue to expect a very gradual recovery of our DM business.
Fall is always a busy time for the company. This year will test us like never before as we prepare for an unprecedented peak season while staying safe during COVID-19. But you've all continually demonstrated for several months now that Canadians can count on us during these extraordinary times. You are helping Canadians get through this challenging period by delivering what is truly an essential service. Businesses, shoppers and communities across the country will look to us even more in the coming months.
Thank you for all you're doing – especially your commitment to keeping yourselves, your colleagues and our customers safe. Your health, safety and well-being continues to be our top priority.
Let's all make it safe and make it home, and please also remember to keep wellness in mind, as we get through this stressful period together.